THE LEADER: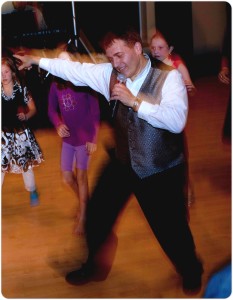 Neil Alexander, faculty physician at the University of Michigan and Ann Arbor VA Medical Center, is the creator and leader of the Klezmer Fusion Band ("KFB").  He has served as an itinerant chazzan at numerous small congregations in the Midwest, and most recently at Beth Israel Congregation, Ann Arbor, Michigan, particularly for the High Holidays.  Growing up in a Yiddish- and Hebrew-speaking family, he has played Jewish music in ensembles or been a song leader since his teens, and was the principal vocalist for the New Shtetl Band, a klezmer group in Albuquerque, New Mexico.
THE BAND: 
Vocalist and guitarist Neil Alexander is joined by klezmer and classical clarinetist Ralph Katz or by jazz clarinet/saxophone/flute player Pete Kahn.  The rhythm section includes local professional jazz players such as David Stearns on bass, Cliff Monier or Dave Gitterman on keyboards, and Dan Maslanka or Cary Kocher on drums.
THE FUSION:
Imagine going from a Russian Sher to "Mustang Sally" to "Mayim" to "Our love is here to stay," all in the same set!  Since many of the members of KFB are also professional jazz and rock players, secular music is often integrated into private party performances.  Playing music at celebrations is their livelihood . . . and these players have been around secular and Jewish music for years.
THE CELEBRATION:
We can play authentic Jewish wedding music (both before and after the chupah), fraylachs and horas, a rousing Israeli circle or line dance, Yiddish swing, waltz or lullaby.
If you can't sing it or move your body to it, we don't play it.  No far-out, existential, new-wave Klez here.
Don't know the dances or too embarrassed to try to learn? Alexander (and his assistants) lead and teach Israeli circle and line dances, many of them basic and easy to follow.